Four new panels introduced for the Xperia X1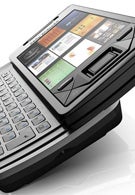 Sony Ericcson has introduced four new panels for the Xperia X1. The CNN panel keeps the user up to date with the latest news, sports, and weather. With this panel, you can browse for information by category or location and even get immediate updates for your current location. The Skype panel allows you to see if any of your pals are online at the moment. A call or IM to one of them, or to someone in your contacts list, is just a couple of clicks away. Need a game to relax with? The Mytopia panel will let you play bingo or poker either solataire or with other people from around the world or find a challenger from your social networking sites. You can play for virtual money and play live matches to move up in the standings. The "On the Road" panel features large touch icons that allow easier access to your music, navigation tools and phone functions while on the move.
According to Sony Ericcson, over 420,00 panels have been downloaded by Xperia X1 owners since the device was released in last year's fourth quarter.