Facebook for iPad: it's here, kind of
5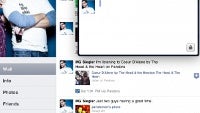 The
Facebook app for iPad
has been released, kind of. Except it's not yet publicly available, but is rather hidden in the code of the existing iPhone application. It was Facebook's own Mark Zuckerberg who ranted about the iPad which "isn't mobile" to get its own mobile app, but now things seem to have changed, a year and a half after the release of Apple's tablet.
Not only an app is in the works, but it's supposed to be
identical to the final version
, which should be coming soon. TechCrunch has uncovered the tablet-optimized application and after some testing has concluded that "it's spectacular." But on a the 9.7-inch screen of the iPad, wouldn't it be better to just go with the full-fledged Facebook website? Not necessarily as the application offers well implemented navigation system, more visual treats with a left side pane and great functionality allowing you to simultaneously chat with buddies while looking at your social network updates.
The big question here is -
can you use it now?
A Canadian engineering student was the first to get it running, so his tip is to "change the UIDeviceFamily to 2 for iPhone on the Facebook app," but with the application coming soon, you might want to wait for the official version. Facebook is clearly gearing up for some major announcements after Google's launch of Google+, and the iPad app is certainly one of them. Check out the screenshots below and feel free to chime in with your thoughts about the application.
Recommended Stories