Facebook expands local alerts across the United States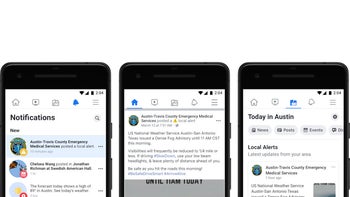 Facebook has just announced that it's expanding access to all eligible Pages in the US to local alerts by the end of 2019. The new feature is meant to help local governments and first responders keep people in their communities safe, Facebook
claims
.
It's the next logical step for the social network, which has partnered with local authorities across the country to test the new feature since early 2018. The concept is quite simple: when authorities mark posts as local alerts,
Facebook
is making sure it amplifies their reach so that people living in an affected community are much more likely to see them.
Facebook will send notifications to people living in affected areas, and will also show information on Today In, a new tab on Facebook for local news, community information, and conversations between neighbors.
If you want to receive local alerts on Facebook, you'll have to follow the Facebook Pages of the first responders in your community, or subscribe to receive regular local updates from Today In. The new feature is accessible from either Android or iOS devices.