Facebook Messenger receives an important update, is likely to mess the balance in the Force
7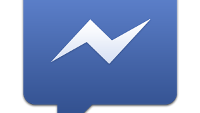 An update to the Facebook Messenger app is now rolling, and within you'll find some pretty important updates both for consumers, and even more so – the merciless incumbent competition.
Just a short time after BBM made its officially official entry into the iOS and Android worlds, so will the Facebook Messenger enter the messaging segment, which is occupied by giants the likes of WhatsApp, LINE and Viber already. You may be thinking that messaging is precisely what Facebook messenger does, and you'll be completely right, but for a small detail – you can currently only chat up people that are already your Facebook friends. The new update builds on top of that functionality, and now anybody who has your phone number in their address book can add you, so it'll actually work a lot like the rest of the competition, with the considerable benefit of a tight integration with Facebook.
The new version will also bring about a rather major aesthetic update – the app is now decidedly Android, unlike in the past, when it felt a bit like a port of the iOS one. Moreover, the app will also now also clearly indicate whether the person you're chatting with is on his desktop or smartphone, which is a neat addition.
The update is already rolling on Android for some devices, so if you aren't getting it just yet, you may have to wait for a while or simply go ahead and manually update. In the meantime, the iOS version is said to also be in the works, and it appears like that once that's ready, we'll see a world-wide release.
source:
Facebook Messenger
(Play Store) via
AllThingsD