Facebook Messenger now features PayPal payments in bots, notifications too
1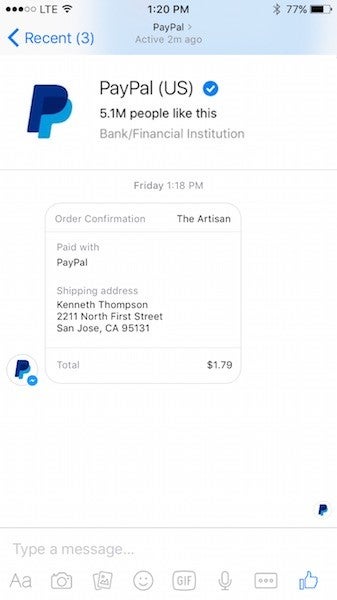 Facebook teased a new way to pay for your goods last month when the social network giant implemented PayPal payments in bots for its
beta version of Messenger.
At that time, Facebook confirmed that more than 30,000 devs have joined the platform and created more thousands of bots since the closed beta began.
Today, Facebook and PayPal announce that they have decided to enhance the payment experience for both Messenger and Facebook, so soon users will be able to make payments with debit cards directly from within these apps.
According to PayPal, in the United States, the company will kick off the rollout of the new feature as a payment option across more of Facebook's commerce experience, including Messenger.
The update should enable PayPal customers to link their accounts to Facebook and Messenger at PayPal check out much easier. On top of that, PayPal customers in the United States will now receive notifications in Messenger.
As Messenger starts to roll out
PayPal payments
, merchants will be able to accept this type of payments directly in their bots. This is especially useful for PayPal-enabled businesses that sell products directly from the Shop section of their Facebook page.
Our focus on partnering with innovative companies to create better experiences for merchants and consumers remains strong. Over the last few months we have announced deals with Visa,MasterCard, Telcel and Claro, Vodafone and Alibaba, in our bid to drive broader customer choice in payments through partnership.
It's unclear whether or not these new features will be pushed to PayPal users in other countries, but for now it seems that it's limited to the United States.