FTC scolds Apple, Google and Microsoft for bad policing of children apps privacy disclosures
6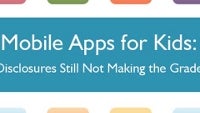 The FTC came out with a report yesterday that mobile app developers are not doing enough to disclose the privacy implications of kids apps. The study notes that children-oriented applications include interactivity and information-sharing with third party services, which are not listed in the terms of agreement of the app that all parents should be reading before their kids engage in the game or educational software.
Out of 400 randomly selected such apps, about 60% were sending sensitive personal info to 3rd party services like ad networks and firms that do customer analytics.
Just 20% of the apps, however, felt the need to disclose the information about those data-collection practices in their descriptions, not to mention that a lot of them also link to social networks, or use geolocation.
All in all, the FTC scolded Apple, Google, Microsoft and the rest of the mobile platform companies for not doing a better job at policing their application stores regarding children privacy:
We haven't seen any progress when it comes to making sure parents have the information they need to make informed choices about apps for their kids. All of the companies in the mobile app space, especially the gatekeepers of the app stores, need to do a better job.