Enter the Sony CP-W5 – a wireless Qi charger coupled with a 5,000mAh battery
5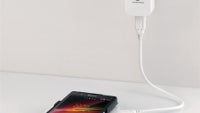 The list of devices that support wireless charging is slowly increasing in size as more and more manufacturers release their own accessories, which would charge your smartphone's battery from a small distance. Up until now, Sony was among those phone makers who refrained from outing such an accessory, but this is not the case anymore. The Japanese manufacturer revealed that it is jumping on the wireless charger bandwagon by announcing the CP-W5 – a hybrid between a Qi charger and a portable powerbank.
The Sony CP-W5 consists of a charging plate, a wall charger, and a USB cable. The plate makes use of the Qi inductive-charging method, which means that it is compatible with any Qi-enabled smartphone, not just Sony Xperia ones. The CP-W5 provides as much as 1.0A of power output when you use it to transfer power to your smartphone wirelessly. Still, you can opt to transfer power to your device even faster by hooking it to the microUSB cable of the Sony CP-W5 and taking benefit of the 1.5A of power output.
The Sony CP-W5 charger has a built-in 5,000mAh battery, which allows you to charge your device when you are on the go and nearby wall sockets are absent. Sony claims that the CP-W5 makes use of a so-called Hybrid-Gell technology, which allows the accessory to sustain roughly 90% of its electric capacity even after it's been charged a thousand times.
Sony states that its first wireless charging accessory will be available "from April 2014 onwards ". The price of the nifty gizmo is yet to be unveiled.
source:
Sony
via
Android Community