Early Samsung Galaxy Alpha display tests: improved, more accurate AMOLED screen
43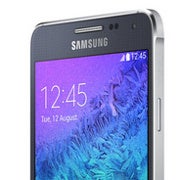 The Samsung Galaxy Alpha has broken cover today, and it turned out all we expected it to be: a 4.7-inch smartphone with a metal frame that would most likely rival the next Apple iPhone 6, a device that's expected to come with a similar size and design traits.
Early reviews (or rather previews) of the Galaxy Alpha have already surfaced out of Russia where Samsung held an unveiling event, and we now have the first details about the display performance of the Alpha.
First, the basics: we have a 4.7-inch screen of the AMOLED kind with a resolution of 720 x 1280 pixels and a PenTile pixel arrangement. We've talked about the huge improvements that AMOLED has undergone throughout the years, but when speaking about some aspects of it like grayscale accuracy,
AMOLED screens like the one on the Galaxy S5 lagged behind rival LCDs
.
Luckily, the early tests show that the Galaxy Alpha is a marked improvement in this aspect the grayscale benchmark shows nice balance between the intensity of the three main colors, something that results in a 'true' grey that is not green-ish, blue-ish, or red-ish.
Brightness, an area where AMOLED screens used to lag behind in the past, is also not bad (not stellar, though) on the Galaxy Alpha at 327 nits when measuring whites. Gamma also hovers around the industry-standard 2.2 (average value for the Galaxy Alpha is 2.24), being just slightly above that at the maximum brightness levels.
Like in other AMOLED displays, you have various screen modes. The basic mode is the default one and it is the mode that is closest to the industry standards of color accuracy.
In basic mode, the Galaxy Alpha colors are close within the sRGB color gamut. Saturations are just slightly off in this mode, with 100% values being a bit overblown, but others slightly undervalued, but as a whole not terribly distorted.
A look at the delta E values that show deviation from the standard values, we're seeing some impressive numbers: 1.35 for greyscale and 2.74 for color.
The Galaxy Alpha offers other screen modes that offer different color representations. The photo mode, for instance, shoots for the wider, Adobe RGB color gamut that sees limited use by some professionals, rather than the more ubiquitous sRGB. There's also the movie mode that stands out with a very cold, blue-ish white point at 7500K and overblown colors. If you stick to the basic mode, though, these early tests show that the Galaxy Alpha display comes with plenty of promise.
Finally, do keep in mind that these are tests performed on what's likely a close to final, but not final version of the Galaxy Alpha, which will launch on September 12th. We'll be running our own comprehensive set of tests on the final phone in the near future, so stay tuned.