Do you think that the new Galaxy A (2016) series warrant their pricing?
72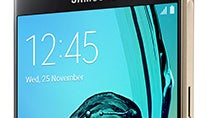 Samsung announced its new midrange warriors without much fanfare yesterday, but that's not because the
A3
,
A5
and
A7
(2016) trio is lacking in virtues. The phones flaunt a brand new for the A-series glass design on a metal frame, reminiscing of the
Galaxy S6
or
Note 5
. The other welcome change they took from the Note 5 are the extremely narrow side bezels, making the phones' one-handed operation easier. Samsung didn't stop here, though, and gave the new A-series much improved cameras, bigger batteries, fast charging, new processors, finger scanners, and updated screen characteristics, when compared to their predecessors.
The European pricing for the 2016 edition of the A3, A5 and A7 has
already been revealed by Samsung Netherlands
. Given the USD/EUR exchange rate now, it should relay to an equivalent or slightly lower pricing in the US, if and when the phones launch here. The Galaxy A3 (2016) will cost about €329 at launch, the A5 (2016) will be pegged at €399, while the Galaxy A7 pricing is yet to be disclosed for any market, but will likely be below 499 EUR or USD, considering the differential from the A3 to A5.
These prices are a tad higher than the original A-series at launch, but the phones' boast much upgraded hardware and a new exterior, too. Given the handsets you can currently get in the $300-$500 range, we wanted to ask you whether you think that the A3, A5 and A7 (2016) are charging a "Samsung premium," or if you consider their pricing reasonable for what they offer. Take a side in the poll below, and tell us what you think about Samsung's new design and pricing approach to its A (2016) midrangers.