Dish Network to send satellite programming to smartphones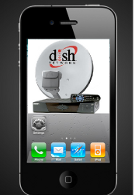 How would you like to watch streaming satellite television from your iPhone, BlackBerry or Android handset? According to the AP, you soon will have this option. BlackBerry and iPhone (iPod Touch and iPad owners too) users will be have this function starting next month while in October, Android phones will have this capability. Besides having to download a free new app from Dish, special hardware will be required like a Sling Box which costs in the range of $200 to $300. Or, Dish subscribers can pay $200 to $400 to upgrade their DVR to one with Sling Box features. You will have to pay $10 a month for multiple DVR service, but you will get to record with it. A little note here-Sling Box is owned by EchoStar whose Chairman is Charles Ergen, the CEO of Dish Network.
With the new Dish app needed for viewing the programs, you will get to change channels remotely-unless someone is watching a different channel back home. And while the SlingBox can access programs that you have recorded on your DVR, you can't record on it. The current app for Dish subscribers is available for the iPhone (iPad and iPod Touch) but is limited to programming your DVR, browse TV shows and for using your phone as a remote control. The app will be upgraded to allow for streaming of programs on to the phone. Both the BlackBerry and Android apps will include the functions on them when they are launched. Dish and Echo Star are a perfect combination to provide streaming satellite television. Back in 2007, EchoStar bought Sling and later spun off Dish Network.
source:
AP