Despite drop in postpaid subscribers during Q2, AT&T's wireless business is improving
1
The headlines might read that AT&T added 2.1 million subscribers in the second quarter. But when you strip away things like connected devices, strong Mexican sales, and the results from prepaid carrier Cricket, AT&T actually lost 180,000 postpaid subscribers in the period That category is the most important sector for wireless operators.
Still, the postpaid results indicated that the wireless business for AT&T is improving. The previous year, the nation's second largest carrier reported a postpaid subscriber drop of 276,000. On a sequential basis, the drop of 180,000 postpaid subscribers in the second quarter compared to a decline of 363,000 tallied in this year's first quarter. U.S. postpaid churn was .97%, the second lowest quarterly churn rate ever reported by AT&T.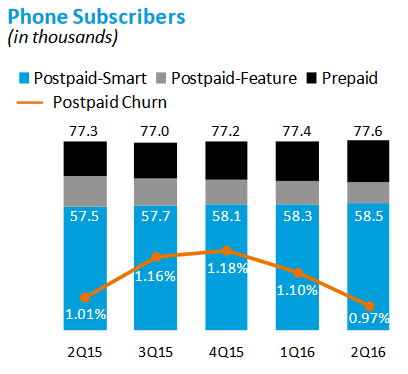 Churn is improving at AT&T
The company added 800,000 new branded smartphones to its network in the quarter, while losing 600,000 featurephones. This is due to AT&T's decision to focus on selling smartphone to prepaid Cricket subscribers while not paying as much attention to its postpaid subscribers using featurephones. 90% of smartphones sold by AT&T from April through June were unsubsidized as were 75% of the phones running on AT&T's network during Q2. And that led to record EBITDA margins of 41.4% for AT&T in the second quarter.
Overall, the quarter shows that the company's prospects are improving. AT&T's wireless business reported EBITDA of $7.4 billion in the second quarter on revenue of $17.9 billion. That was up from the EBITDA of $7.3 billion reported during last year's second quarter. Revenue during the same period last year was $18.3 billion. Overall, AT&T had 77.6 million wireless subscribers from April through June. That was up from 77.3 million subscribers during the same quarter last year, and 77.4 million from this year's first quarter.
source:
AT&T