Delta Airlines to outfit 250 planes with Gogo's zippy internet feed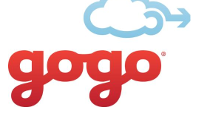 Delta Airlines announced on Wednesday that 250 of the jets used to fly its longer domestic, Latin American and Caribbean routes will be outfitted with a faster internet service from Gogo. The new service will provide flyers with data capacity as fast as 70Mbps. But that speed is splt up among the users who pay for the service. Still, it is an improvement from the 3Mbps 3G service that is currently split up among Wi-Fi users on these routes.
The new Gogo 2Ku service combines the company's ground-to-air CDMA network with satellite service from SES and Intellisat. Installing the service means retrofitting the planes and that takes time. Delta's first upgraded plane won't be ready until 2016 and completing all 250 aircraft will take several years. New planes ordered for international routes will come with the service "out of the box."
Virgin Atlantic is also adding Gogo 2Ku to some of its fleet. Unfortunately for the traveler, the faster internet speeds will probably come at a higher cost. Gogo hasn't announced pricing yet, but progress often costs the consumer more money.
source:
GigaOm