Deal: get the Acer Iconia One 8 for just $79.99 from Amazon
1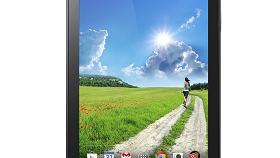 If you're on the market for a cheap Android tablet, then Amazon's latest deal on the Acer Iconia One 8 Tablet is one that you should take advantage of.
Amazon is currently selling the Acer Iconia One 8 at the price of $79.99 with free shipping. Usually, the slab goes for $119, meaning that Amazon is basically offering the slab at 33% off.
Although it's one of the cheapest Android tablets you can get your hands on, the Acer Iconia One 8 is actually a decent device given the price. The tablet comes with an 8-inch IPS display running at 1280 by 800 pixels and an Intel Atom Z3735G chipset with a quad-core CPU clocked at 1.33GHz.
In the memory department, the Acer Iconia One 8 features 1GB of RAM, 16GB of integrated storage space, and a microSD slot that accepts cards of up to 64GB in size.
Other specs include built-in stereo speakers, Bluetooth 4.0, a 5MP primary camera, and a 0.3MP secondary shooter. On the software side, the Iconia One 8 runs Android 4.4 KitKat, and the tablet isn't likely to get an update to any of newer Android versions such as Lollipop or Marshmallow.
Overall, the Iconia One 8 is the prettiest, best-build, or the fastest Android tablet on the market. At a price of $79.99, however, it's hard to ask for more from an Android tablet. Many just need a tablet that can be used for light web browsing, YouTube, and Facebook, and this tablet should suit such as minimalistic role well. Just don't expect the slab to offer snappy performance or an impressive multimedia experience and you should be fine.
If this seems like a tempting deal to you, note that Amazon's offer is only valid until the end of the week. The Acer Iconia 8 One is available in White, Black, Silver, Pink, and Red.