Deal: SayIt, a BlackBerry voice assistant app, discounted to $1.99
2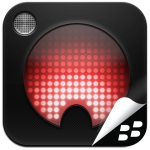 In order to celebrate its one year anniversary, the SayIt app for BlackBerry devices has received a 60% price cut on BlackBerry World and now costs $1.99. Although the Canadian manufacturer has implemented a voice assistant companion in its BlackBerry 10-powered devices, SayIt is touted as being superior to it.
Similar to Apple's Siri and Google Now, SayIt comes with natural voice recognition and processing. The app features built-in voice-to-text and text-to-speech conversion engines, as well as a real-time translation feature, which supports more than 60 different languages. SayIt can be also used to launch other native BlackBerry apps like Camera, Calendar, Adress Book, and more.
SayIt supports devices that run on BlackBerry OS 5 and higher. The BlackBerry 10 version shines with touchscreen support and completely overhauled interface. However, take into consideration that many users are reporting some issues when running SayIt on BB10 smartphones upgraded to version 10.2.1 of the mobile OS. The developers of the app will most probably address these with a patch.
Both versions of the SayIt app are currently priced at $1.99.
Download: (
BlackBerry 10
|
BlackBerry 5+
)
via:
CrackBerry