Deal: This Samsung 10,000mAh portable charger with fast charging is 54% off, grab one for $16!
2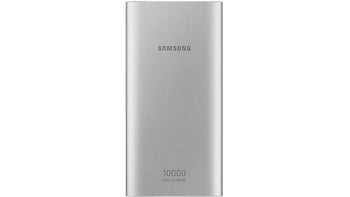 The modern smartphone is a truly wonderful and practical device, but its magnificent splendor disappears as soon as its power cell gives in. If you need some extra juice on the go and battery cases freak you out, then you must have entertained the thought of getting a portable charger.
If that's the case, you'll be happy to know that there's a compact 10,000mAh Samsung power bank on sale at Sammie's official store. The charger typically retails for $34.99, but right now you can get it for $15.99! That's a discount of $19 or 54%.
This model supports both Samsung's Fast Charge technology and the Qualcomm Quick Charge 2.0 standard, meaning that you get high-speed charging compatibility on a huge number of devices. The power bank itself can also be recharged faster thanks to these two technologies. You can simultaneously charge 2 devices at the same time, but keep in mind that you can't use fast charging while doing so. Click the 'Battery Check' button to switch between fast charge and dual charge.
The outer layer is made of metal, and the gadget features a slim and ergonomic design that makes it a breeze to carry. Last but not least, the charger features 4 LED indicators that display remaining charge when the status button next to the light is pressed.
If this offer interests you, feel free to follow the above link to Samsung. A Micro USB cable is also included in the deal, while shipping is free.
Recommended Stories