Deal: Amazon massively discounts the Fire HD 10 tablet again
4
We may earn a commission if you make a purchase from the links on this page.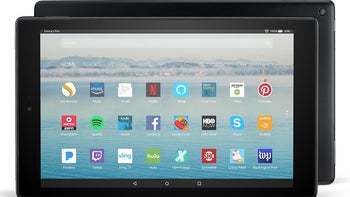 Amazon often runs promotions on its Fire tablets, but right now it's just one that gets a massive discount, so if you're looking for a cheap but reliable Android tablet, the Fire HD 10 might fit your needs.
First off, it's important to mention that the Fire HD 10 tablet usually sells for $150, but Amazon offers a $50 discount. The deal is only available for the 32GB model, as the 64GB variant seems to be out of stock for the moment.
The good news is you can still choose between the Black and Punch Red colors, but keep in mind that the latter will arrive in stock on August 26. Also, the Marine Blue is currently unavailable, so that's no longer an option.
If you decided to go for the deal, you'll be happy to know that the Fire HD 10 does feature pretty decent specs. For example, the tablet sports a larger 10.1-inch full HD display and packs a 1.8GHz quad-core processor, paired with 2GB RAM and 32GB storage.
The battery should offer up to 10 hours of continuous usage, while stereo speakers and Dolby Audio support should provide users with a more than decent sound experience. Naturally, the Fire HD 10 features Amazon Alexa support, so you'll be able to use your voice to pause videos, play music, open apps, and do various tasks.
The only downside is that it will display special offers on the lockscreen, so if you absolutely hate ads on your tablet, then this deal is clearly not for you.