Day 5 of Google's 10 cent app giveaway discounts: big name games and more
10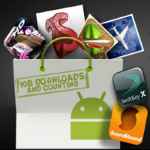 Day 5 of Google's 10 cent apps to celebrate 10 billion app downloads has come, and Google is definitely playing around this time with 5 amazing games as part of today's set of discounted games. The discount celebration has been successful in not only bringing quality apps to users very cheap, but in it's peripheral agendas of raising the profile of older apps, and getting more users to sign up for Google Wallet/Checkout.
Today is day 5, and it brings these 10 apps down to just 10 cents:
There's a lot to like in this batch. Apparatus is a great physics puzzle game, The Sims is The Sims, Asphalt is a fantastic racer, Drop 7 is an addictive puzzler, and Age of Zombies is a hilarious top-down shooter. And, if you haven't given gesture keyboards a shot, definitely grab SlideIT, because at 10 cents, there's never been a better time to try it out.
And, if you missed anything from the past few days:
Google Android Market 10 cent app promo day #1
(the apps are no longer discounted),