Customers lining up for the Samsung Galaxy S6 & edge in Rotterdam are making an Apple-huge line
99+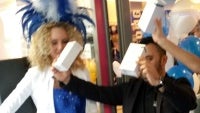 Know what day it is? It's April 10, and the hot-shot Samsung Galaxy S6 & edge are hitting stores in at least 20 countries to a fantastic reception! Samsung watchdogs SamMobile managed to snap a beautiful set of photos showing customers lining up in front of a T-Mobile store in Rotterdam, The Netherlands.
The sights from the land of tulip fields and grinning backpackers portray an Apple-like level of anticipation, which must be good news to Samsung. The GS6 & edge were quick to gather shoppers' attention, the way really strong products do. Samsung's latest and greatest smartphones happen to be its most attractive handsets to date, and together with their athletic hardware, beautiful screens, and polished user experience, they sure make for an enticing proposition!
While Samsung is starting to win people's hearts again, Apple retail boss Angela Ahrendts is trying to eliminate the proverbial long lines of Cupertino products' launch days (or the A-Watch, at least), as the former Burberry exec seems to think they reveal supply problems. Although Samsung is dealing with
limited supplies of the GS6 edge
due to the complexity of its curved AMOLED display, it doesn't appear to think people lining up for its products like crazy is bad for business.
Anyway, check out the fine photos below. Are you standing in line for Samsung as you're reading this?