Create your personal cloud with D-Link ShareCenter 4-Bay Cloud Storage 4000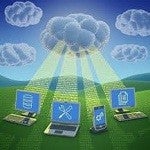 With up to 12TB of storage space possible across four 3.5-inch SATA drives, you can be the master of your own cloud. D-Link also has dedicated mobile apps for Android, BlackBerry, iOS and Windows Phone which allow remote access and management through a personal cloud portal.
In addition to handling the basics, the ShareCenter can act as a web-server and secure FTP. It also supports DNLA and network video recording if used with D-Link cloud cameras. It is able to handle multiple data streams thanks to two Gigabit Ethernet ports.
It is a great option if you do not want to play on someone else's cloud.
source:
D-Link