Cox releases commercial wireless in 3 U.S. markets
1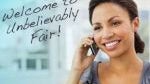 Cable companies have avoided entering the wireless market. Companies like Time Warner Cable, Comcast, and Bright House Networks have all decided to offer their wireless broadband service
via Clearwire's networks
. Cox Communications is now taking the bold step of releasing their own commercial wireless solution.
Cox's wireless service
will first be released in the 3 markets in which they tested the service: Hampton Roads, VA., Omaha, NE., and Orange County, CA. They will market their new network with the very tempting 'MoneyBack Minutes' program. Under this program, customers can receive a 5-cent credit per unused minute, up to $20 per month. They will also add the option to purchase a subsidized phone on-contract, or pay full price and have no early termination fee.
Cox operates its own AWS (Advanced Wireless Services) network, and 700MHz spectrum, but will be using
Sprint
's network for the time-being. They don't plan to switch to their own infrastructure any time soon: "We have the means and spectrum to move to our own facilities. But I wouldn't say it's a necessity to do so
."

Stephen Bye, VP of wireless services for Cox, reports that the service will be aimed at current Cox subscribers, and will only be promoted through their own stores. By adding wireless service to a Cox package, subscribers will get a free upgrade, like a premium movie channel. Plans start at $39.99 for 450 anytime minutes, and go up to an unlimited talk/text/web plan for $99.99.

source:
Cox Communications
via
FierceWireless