Verizon tests unlimited text/data/mobile-to-mobile for $69.99
11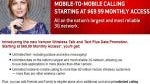 Verizon is testing so many
new plans
, it's getting hard to keep up. The largest carrier in the U.S. is now extending a special unlimited plan to preferred customers. The plan includes unlimited text, data, and mobile-to-mobile calling, as well as 450 anytime minutes, all for $69.99.
Before you get too excited, you should know it's only for preferred customers, meaning if you didn't get an email about it, you won't be eligible. There is also a Family Plan option, which is $139.99 for 1400 anytime minutes, unlimited text/data, and $19.99 for every additional line.
This special plan comes on the heels of Verizon's switch to
tiered data plans
. Customers can now choose between 150MB for $15, and unlimited data for $29.99. Verizon is also testing an
unlimited any-mobile
plan, like Sprint's, that starts at $60 for 450 minutes, and includes unlimited texting.
Under pressure from other carriers like
Sprint
, Verizon is trying to stay competitive with lower-cost alternatives. At the same time, they have to be competitive, while still turning a profit from resource-hungry data use. While we wouldn't count on it, the unlimited text/data/mobile-to-mobile plan could become the norm as their
LTE service
grows. The plan could then be a way to offset LTE buildout costs by gaining new subscribers. After LTE is in place, there will then be a surcharge for 4G service, as there is with Sprint.
source:
Verizon Wireless
via
Engadget