Clearwire's WiMAX network is now up and running in the Sacramento market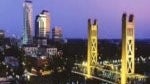 As residents of Sacramento awake from their slumber and commence their work week, they might not physically feel its presence, but Clearwire's WiMAX network has begun permeating the airwaves across the great city. They'll be waking up and smelling the coffee while enjoying the next generation 4G speeds offered by Clearwire's recent launch of their WiMAX network.
The joyous news even extends to residents within the greater Sacramento market like those in the the west towards Davis, Natomas to the North, Roseville/Folsom to the East, and Elk Grove to the south. In fact, the 4G network is now blanketing approximately 1.2 million people in the region.
Luckily, Clearwire is throwing a special limited time offer with their launch in Sacramento as customers can receive a 50 percent discount with their new service plans for the first two months – plus they're throwing in free overnight shipping and waiving the activation fee for online orders of their mobile internet solutions.
source:
Clearwire
Recommended Stories