Citi and Best Buy make spending your ThankYou points easier than ever with a dedicated app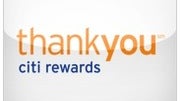 As those who have a Citi bank account are probably well aware of, using a Citi credit card can be rewarding. We are talking, of course, of the bank's ThankYou program, which turns every dollar that a customer spends to points that can be exchanged for rewards of various shapes and sizes.
Best Buy stores are one of the places where Citi customers can redeem their points and walk out with a new gizmo in their hands. In order to make the entire process easier, both companies have partnered up and have created
iOS and Android apps
that can be used not only for one to keep track of their ThankYou points, but to see how many of them are required to grab a given item. You simply go to a Best Buy outlet, launch the app, scan the barcode of the desired reward and you will automatically get the amount of points that you need for it.
Of course, the Citi ThankYou Rewards app also gives you access to the entire catalog of gifts that you can choose from. Items can be exchanged for points at a tap of your finger with the option to pick it up from the respective retail outlet or have it delivered to your doorstep.
If you are willing to give the Citi ThankYou Awards app a try, just grab it by hitting our source link.