Check out this new hardware-centric infographic about the Nokia Lumia 630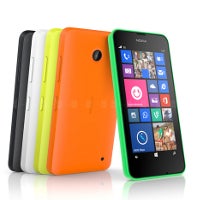 Last week,
we showed you a new video ad
about the
Nokia Lumia 630
, which stressed upon some of the popular apps that are available for the affordable device. Nothing was said about the mid-ranger itself, but today we are treated to an official infographic, released by Nokia, which emphasizes some of the hardware features that make the Lumia 630 click and tick.
The dual-SIM capability of the smartphone is one of the key features that are being stressed upon in the infographic, as it explains that users can enable call waiting between the two SIM cards and thus easily manage their expenses. According to Nokia, the expandable storage, the 1830mAh battery, the 4.5-inch display, and the quad-core SoC are also among the key features that shouldn't be overlooked by potential consumers. The operating system comes into play, too – after all, the Lumia 630 is the first device to come with Windows Phone 8.1 out of the box, so it's completely normal that this rather important aspect gets emphasized upon so heavily.
Are these features of the Lumia 630 enough to secure it a victory over the recently-unveiled Moto E or the Moto G, the undisputed mid-range best-seller? Well, check out the infographic below and you be the judge!
You can also check out our review of the Nokia Lumia 630
here
.
source:
Nokia
via
GSMArena