Check out the Burberry Prorsum catwalk show, shot with the new iPhone 5s
24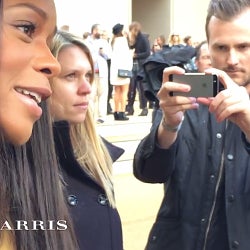 You remember Apple issued a press release before the weekend that
it has partnered with Burberry
for its Prorsum Womenswear Spring/Summer 2014 show in London?
Burberry was supposed to get an exclusive grab on a few
iPhone 5s
handsets, and do the footage for the show, including the catwalk presentations, but also behind the scenes preps and post-show functions, entirely with the new iPhone and its upgraded iSight camera with
larger, 1.5 micron pixels
.
Well, the show went as planned yesterday, and now we have the first highlights posted on Burberry's channel, "shot with iPhone 5s".
Albeit decent, it is definitely not a result you'd achieve with a dedicated professional camera, if that was the intention, so we'd be curious to compare this footage with one of the larger pro cam kits that have undoubtedly shot the show from several angles as well. Or, better yet, prep yourselves for the inevitable camera comparison as soon as we round up the 5s and the direct competition in the office.
Here are parts of the interview with Burberry's Christopher Bailey on why they went with Apple on this one:
So why iPhone?
Apple has made technology very effortless and very natural. We often talk about the trench coat as effortless elegance. You can throw it over an evening dress or pair of jeans. I think that the iPhone has the same type of philosophy as this. It is beautifully designed, but you take it everywhere, you carry it everywhere. But it also creates the most beautiful imagery and you can use that on a variety of different platforms like we have today.
The design is hugely important. We care about the integrity of design. The amount of work that goes into making sure that not only functions and works, you should be able to take that for granted, but that it looks beautiful and we enjoy it as an object.
Today we've been capturing all our content on the new phone. It's mainly because of the quality. We streamed the show live. We weren't using cumbersome cameras that needed to be controlled by 7 people, but this tiny phone instead. Using the iPhone we streamed it to millions of people around the world. It's remarkable...
Did you approach Apple or did they approach you?

I've known Jony [Ive] for a long time and he is a mate of mine and it is something that organically grew. It wasn't some strategic plan that we had to do it. Also the dates just worked out. They [Apple] announced the phone on the 10th, our event was on the 16th, it goes on sale on the 20th...
We see you've gone for the 5S?

Yes, I've got space grey, actually because I love the name. I couldn't decide between the gold and the grey and then guy said it was called space grey and that nailed it.

How important is technology to what Burberry does?

Really important. It is changing the way that we all live. I do think that fashion is a part of the way people evolve and change and technology is such a big part of the way that we all interact with each other and engage with each other. The themes and communities and spaces. Burberry is an old young-old company. It's brand that's very old, but teeming with young people and energy. Technology isn't there because it is a tick box, but something that is very authentic in what we do. The way that we design, the way we are organised, and the way that we communicate internally.

Has technology changed the way you design clothes?

One hundred per cent. The way we can now formulate ideas and share them on a range of platforms is so much easier.

What about the actual clothes, like changing the way a coat is cut to accommodate a phone?

We are definitely working on technology embedded into clothes. There is a lot of exciting stuff going on at the moment looking at embedding technology into fibres. We've got RFID tags in our coats that then when you walk up to a mirror in our Regent Street store to then see the full story behind that coat. So you see that the cashmere was knitted in Scotland.

I think technology is allowing us to put the soul into the craftsmanship of clothes. It's not just a fashion show. There are the designers creating it, then the artisans making it, then some swanky person on the catwalk. The whole story can be told. It's very exciting. If technology wasn't part of the way we think I think that would be disappointing.

What's your favourite feature in the iPhone 5S?

Slow-mo, everyone is obsessing over Slow-mo, oh my god. I was doing it last night in rehearsals and it was amazing.