Apple lends Burberry the iPhone 5s for a fashion show capture to demo the new iSight camera(video)
24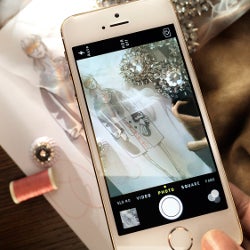 Apple has partnered with Burberry for a runway footage from its Monday, September 16th London show, called Prorsum, which will be streamed live from Hyde Park there.
Cupertino is actually lending the fashion house a bunch of the new
iPhone 5s
models to demonstrate pre-release what the upgraded 8 MP iSight camera is capable of.
Burberry will be using the phones not only for the runway footage and streams, but also for backstage stuff, and will post the results before, during and after the show on its website.
The fashion icon explains its imaging partnership with Apple this way: "
Inspired by our shared values of design and craftsmanship, we have collaborated with Apple to capture the show experience on the iPhone 5s
."
Burberry Uses iPhone 5s to Capture Spring/Summer 2014 Runway Show
Burberry & Apple Collaborate to Share Runway Show Experience

CUPERTINO, California and LONDON—September 12, 2013—Apple® and Burberry today announced that iPhone® 5s is being used to capture and share beautiful photos and video before, during and after the Burberry runway show in London on Monday, September 16. Using the all-new iSight® camera on iPhone 5s, Burberry is shooting high quality photos and video for runway and beauty looks, product details, and backstage moments. The collaboration is reimagining how Burberry engages consumers, paving the way for significant changes in how they capture and share their content.

"iPhone 5s makes it even easier to take great photos with the world's most popular camera," said Greg Joswiak, Apple's vice president of iPhone & iOS Product Marketing. "We're thrilled to see the amazing photos and HD video Burberry has captured with the incredible all-new iSight camera."

"This collaboration celebrates our relationship and shared foundation in design and craftsmanship. We have a mutual passion for creating beautiful products and unlocking emotive experiences through technology, which has made it intensely exciting to explore the capabilities of iPhone 5s," said Christopher Bailey, Burberry Chief Creative Officer. "We're inspired by what this could mean for the future as we continue to explore the merging of physical and digital experiences."

Through photos and video shot exclusively on iPhone 5s, consumers globally can share in the anticipation of the show build up, as well as the excitement of the day itself, across Burberry social media channels and on www.burberry.com starting today. In addition, customers can watch the show live on Monday, September 16, at 2:30 p.m. GMT+1 at www.burberry.com.

Pricing & Availability
iPhone 5s comes in gold, silver or space gray, and will be available in the US for a suggested retail price of $199 (US) for the 16GB model, $299 (US) for the 32GB model and $399 (US) for the 64GB model*. iPhone 5s will be available from the Apple Online Store (www.apple.com), Apple's retail stores, and through AT&T, Sprint, T-Mobile, Verizon Wireless and select Apple Authorized Resellers. iPhone 5s will be available in the US, Australia, Canada, China, France, Germany, Hong Kong, Japan, Puerto Rico, Singapore and the UK on Friday, September 20.

* For qualified customers.

Apple designs Macs, the best personal computers in the world, along with OS X, iLife, iWork and professional software. Apple leads the digital music revolution with its iPods and iTunes online store. Apple has reinvented the mobile phone with its revolutionary iPhone and App Store, and is defining the future of mobile media and computing devices with iPad.

Burberry, the world's leading digital luxury brand, is headquartered in London. Founded in 1856, it is listed on the London Stock Exchange (BRBY.L) and is a constituent of the FTSE 100 index.

The Burberry Prorsum Spring/Summer 2014 runway show will take place on Monday, September 16, at 2:30 p.m. GMT+1, and will be available to view live and on-demand at www.burberry.com.