Apple vs the world: just how big are the 1.5-micron pixels on the iPhone 5s' camera
99+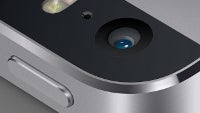 With the initial buzz aroundApple's iPhone 5s introduction gone, things are finally settling in place,and everyone has had some time to soak everything that transpiredright in.
The unusual, hardware-focused, presentation that Tim Cookand Co decided is more appropriate than the traditional Appleannouncement, typically based more around software features thananything else, had us a little surprised. But whether Apple simplyhad a lot to say on the harwdare side, or its simply trying to beatits Android archrival at its own game, is something we'll have to wait for thenext batch of announcements to properly gauge.
So, Apple, at least for now, wantsto go down the hardware path, and we'll oblige and follow. A lot has been said about the new iPhones and the iPhone 5s in particular – afingerprint sensor, the world's first 64-bit chip in a smartphone,and an even better camera, of course. And while we're itching to getour hands on Apple's new flagship and specifically -- its camera,there are some parts of the iPhone 5s' shooter that we cananalyze without actually having the unit in hand. One such part, in particular, has been firmly lodged into our subconsciousness eversince Apple's September 10 presentation, and that's the claim thatthe bigger 1.5-micron pixels on the iPhone 5s' sensor are "muchlarger than most competitive phones", whose camera modules, Applesays, offer just 1.0 to 1.1-micron pixels. Naturally, the first thingwe thought of when we heard that, was the HTC One's UltraPixelcamera, with its giant (for a smartphone) 2-micron pixels –significantly larger than the iPhone 5s' own pixels. So we decidedits time to do a little digging.
| | |
| --- | --- |
| Phone | Pixel size |
| 1. HTC One | 2.0μ |
| 2. iPhone 5s | 1.5μ |
| 3. iPhone 5 | 1.4μ |
| 3. Motorola Moto X | 1.4μ |
| 3. Nokia 808 Pureview | 1.4μ |
| 4. Samsung Galaxy S4 Zoom | 1.34μ |
| 5. Sony Xperia Z1 | 1.17μ |
| 6. Nokia Lumia 1020 | 1.12μ |
| 6. Samsung Galaxy S4 | 1.12μ |
It turns out, that we are both inagreement with Apple's statement, and not. First, while the cameraunit on the iPhone 5s does, indeed, feature a pixel size second onlyto the HTC One's, as you can see, most competitors aren't actuallyvery far behind. What's more, while the undeniable ability of largerpixels to capture more light, resulting in better overall pictures isnot to be ignored, we do hope this doesn't simply become the next new"thing" with cameras. This is because, as the HTC One's camera has proven overand over – while large pixels have their role to play, they hardlyhardly exhaust the multitude of other variables that affect the quality of your pictures.