Broadway shows & others asked to vacate airwaves for LTE's arrival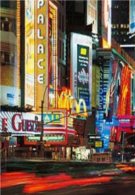 Broadway shows, churches, schools, sporting events, and other organizations that heavily rely on wireless microphones that operate on the 700 MHz band have been given a deadline to find an alternative spectrum to call home or a totally new system. The FCC has announced they're being given 5 month, with the deadline set for June 12, to vacate US airwaves which are intended for high-speed web services by Verizon and AT&T – additionally it'll be used for emergency communication. The two largest wireless carriers in the country won a 2008 auction for rights to the airwaves; which have been used by broadcast television and unlicensed microphone transmissions.
Thomas Ferrugia, director of government relations for the Broadway League, said that it would cost around $100,000 for a theater to replace existing equipment with ones that would comply with the new ruling. Older shows like "Wicked" that purchased equipment prior to the FCC's order would be burdened the greatest because they now have few microphones that meet the new rules. Ferrugia goes further on to say that "We will make ourselves ready. As difficult as it will be, we'll be able to comply." The task might prove daunting to adhere to because there are other unauthorized and unlicensed devices that continue to operate in this band – which ultimately can pose as a harmful interference to public safety entities and next-gen consumers eager for faster data services.
source:
FCC
via
DSLReports
&
Business Week