'Brick' concept phone shows off some cool ideas for a transparent display
16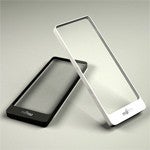 Designers Shaocheng Huang and Yuyin Huang have released a concept video for a new see-through device called Brick. The corner stone of the device is the transparent display that can support a variety of functions.
In the video you can see the Brick being used as a camera, a magnifying glass, a translate tool, and even a file being swiped from one Brick to another.
On the official website, Yanko Design, the Brick is pitched as a PC that goes by the mantra "
a PC is no longer a PC anymore.
" In reality it looks closer to a phone's size and with some of the potential features of this device, it would be really cool to see this turned into a smartphone.
source:
Yanko Design
via
CNet