Blaze & Graze for iOS is about endless running and gunning in a hand-painted universe
0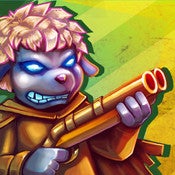 Blaze & Graze for iOS is best described as an endless runner with almost endless shooting action. And if that sounds wacky, just look at the storyline. Aliens have invaded the player's sheep herd. And before you've asked, yes, you play as a sheep. A sheep commando. The crazy just goes on from here. You will have Woolsworth, the "mighty sheep god", guide you through bloody battles with the alien forces. As the developer Wyse Games puts it, this game is truly out-of-this-farm.
As ridiculous as it seems, Blaze and Graze is actually competent. For starters, it has high-quality hand-painted art. The art style itself is something to behold, as it's obvious that a lot of talent went into it. Some of the enemies have a Halloween look, while others remind us of Sonic The Hedgehog (the wasps) and BioShock's Big Daddy (the big boar).
Playing-wise, Blaze & Graze features upgrade mechanics, item customization, more than 60 achievements to complete, and a "no more jumps - shoot them all or die!" gameplay philosophy. The conclusion is that this game was made by gamers for gamers. Such games are becoming scarce in the mobile gaming world.
Blaze & Graze costs $2. Check out the trailer and head to the App Store from the link below.
Download:
iOS