BlackBerry updates eight apps including Hub
78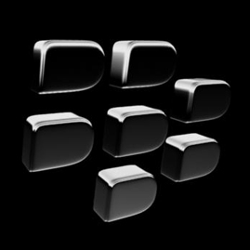 Yesterday, BlackBerry rolled out updates to eight of its apps that are currently in the Google Play Store. The apps receiving the updates include BlackBerry Hub, Keyboard, Launcher, Calendar, Contacts, Productivity Tab, Notable, and Privacy Shade. When the updates become available in the Google Play Store, BlackBerry users will receive a notification that the updates have arrived. That is when they should automatically update to your 'Berry via Wi-Fi.
If you need to manually update the apps, follow these steps:
Connect to a Wi-Fi network, then open the Google Play Store.
Tap the icon on the left side of the search bar, then select "My apps & games" from the menu that pops up.
Either tap "Update All" or select which apps to update on an individual basis.
Tap "Download" and the update will begin, even if you don't see a progress bar or another indicator.
Hub
Additional Hub integrations: we now support Skype Lite, Zalo, and KakaoTalk accounts.
Improved Search capability: Quickly search all messages with the same sender or subject from the More Actions menu.
"Help Receive Emails Quicker": With this newly-added setting, you can receive emails quicker when BlackBerry Hub is running in the background.
Other minor e-mail improvements: readability of wide tables in e-mail messages for the "Resize email to fit screen" setting, and improved readability of e-mail messages in Ukrainian language.
Notification enhancements: The notification tray remains open after tapping an action icon in a Hub notification, enabling you to triage multiple Hub notifications at a time.
Admin enhancements:
S/MIME can now be configured to use LDAP for certificate lookup when used in a managed profile.
Using app config in Hub+ Services, an admin can configure it such that Chrome in the work profile uses single sign-on. This allows their users to only enter their username/password once per session when navigating internal work sites using Chrome.
BlackBerry Keyboard
Quick Modes make it easier for you to toggle between multiple modes via a toolbar. These modes include:
Dictation Mode: Access to voice input and settings for dictating messages.
Emoji Mode: Quick entry to the emoji mode to select from hundreds of available emojis and the most recently used ones.
Text Selection Mode: Access to improved fine cursor control with a joystick-like controller to give you better maneuverability. Also, easily select, select all, cut, copy and paste text, URLs and emojis.
Clipboard Mode: An advanced clipboard which remembers all your copied text, URLs and emojis so you can easily paste previously copied content.
Password Keeper Integration: Easily enter your stored passwords in login fields, if you use the BlackBerry Password Keeper with its Autofill feature.
Launcher
Grid Customization: Now under Launcher settings, you can take more control over the home screen of your BlackBerry device. There are 3 added customizations to change the launcher:
Icon size: Allows for 5 different sizes.
Grid Columns: Change the number of columns from 4 to 7.
Grid Rows: Change the number of rows from 3 to 7.
Calendar & Contacts
Work Week View: A new work week view with adjustable start date/end date.
Event Edit and Creation Enhancements: Landscape view now available for editing and creation of calendar events.
Contact Icon Refresh: New look for the contacts app, with redesigned icons throughout.
Productivity Tab
Add Item: Each tab now also has an add item button, making it easier to work within the productivity tab.
Free/Busy Time: Updated UX tweak to show your free or busy time with a nice visual indicator.
Notable
Usability Enhancements: You can now choose to save an image to a specific location on the phone.
Privacy Shade
Reading Window Resizing: Need to hide or see a bit more on the screen? We've added the ability to choose between three different sizes for the viewing area.
source: BlackBerry