BlackBerry to close its hardware division on September 28th?
99+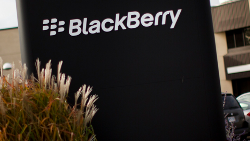 Despite earlier reports that
BlackBerry is prepping a follow-up device to the recently released DTEK50
, an investment website says that there are clues that the once proud smartphone manufacturer is about to close its hardware division. The Canadian site belonging to the
Motley Fool
notes that hardware makes up 65% of the company's R&D expenditures, but its phones make up less than 1% of the global smartphone market.
BlackBerry CEO John Chan previously stated that he would be making a decision this month about whether to close the hardware division. With only a bit over a week until October rolls in, that announcement should be made soon. According to the Motley Fool, there is some foreshadowing on BlackBerry's part hinting at what is about to happen. The site points out that BlackBerry's website has a 40% off sale on all accessories that runs through September 27th. That happens to be the day before the company announces its second quarter earnings.
Last quarter, the company sold just 500,000 handsets, and the
DTEK50
(basically a rebranded
Alcatel Idol 4
) is already being discounted by various retailers. To this highly respected investment site, it all adds up to the end of a division that once was the reason for BlackBerry to be in business. Now, hardware is zapping the life from the company.
Closing the hardware division would leave BlackBerry focused on its highly regarded software. And while this is pure speculation, it makes too much sense to close the hardware division so that BlackBerry doesn't continue to throw good money after bad.
source:
MotleyFool
Recommended Stories