BlackBerry Storm2 accessories getting stocked up at Best Buy
This article contains unofficial information.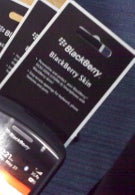 While the BlackBerry Storm2 9550 has yet to be introduced by RIM and Verizon, every day brings more evidence that the sequel unit is getting closer to being released. For example, Best Buy is already stocking up on silicone skins for the phone. The interesting thing is the packaging which calls the phone everything but the Storm2 or Storm 2. The device is called the 9550, the Storm II and even the BlackBerry Odin. Just shows you how much lead time something that seems simple-like silicone skins-needs to be waiting at your local store for your purchase.
RIM BlackBerry Storm2 9550 Specifications
|
Review
source:
EngadgetMobile