BlackBerry PlayBook to run Android applications by December, in time for the PlayBook 2
5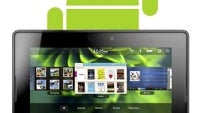 One of RIM's major selling points with the BlackBerry PlayBook was that due to the flexible QNX operating system, users will be able to load and run Android application via an integrated emulator.
The app player that will provide application run-time environment for Android 2.3 software, was promised to go live this summer, however now we are hearing that the implementation has been postponed for "late fall", which most likely means October/November. The player
already leaked unofficially
, but receiving it directly as an update from RIM is a whole different ballgame.
On the other hand, we received an anonymous tip today that the rumored
BlackBerry PlayBook 2
is actually in a pretty advanced stage of development, and
will be shipping in October
. Due to non-disclosure agreements the source said he can't reveal any specs, but partners are currently getting $150 discounts on the original PlayBook, which might mean that RIM is trying to diminish inventory before the new version hits.
Could it be that the BlackBerry PlayBook 2 will ship directly with the Android apps emulator layer built-in come later this fall? One can only hope, and the current owners of the BlackBerry PlayBook are surely crossing fingers for the Android app player to grace their slates officially as soon as possible.
Thanks for the tip!
via
Engadget