Bing Food & Drink to debut in Windows 8.1, foodies take note
2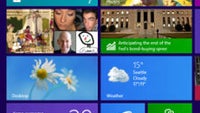 If you're among the people who love to cook, then Microsoft has a thing for you built into the Windows 8.1 operating system. It is called Bing Food & Drink and it is a new hub built with the amateur chef in mind.
As you can probably guess, Food & Drink is kind of like an app that one can use to search for recipes. Once you find the meal you wish to cook, the software can automatically fill out a shopping list with all the ingredients. Cooking tips and tricks are also available via the application's main screen. In addition, you'll be free to see what some of the world's most famous chefs are up to.
But the coolest thing about the Food & Drink app in Windows 8.1 is that it has a hands-free mode, allowing one to swipe through the pages of a recipe without touching the screen. The feature will surely come in handy if your hands have flour all over them, although you'll still have to tap a button to activate the mode. This works by activating the front-facing cam on a Windows 8.1 device so that it can track the movement of the user's hand.
Recommended Stories