BestBuy and Walmart Black Friday ads leak - $250 gift cards with a Galaxy S7 or S7 edge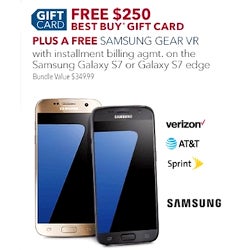 Brace yourselves, deal lovers, the BestBuy and Walmart Black Friday ads have been outed for the world to see, and there is plenty to be excited about in the world of mobile two weeks before the biggest sales event of the year actually kicks off.
First off, it seems that the
Galaxy S7
and
S7 edge
phones will have a countrywide promotion that includes $250 gift card for the respective shop they will be sold at on Black Friday, and there will be a free
Gear VR
thrown in as well.
We saw the same deal offered by Target's leaked BF circular today, so Samsung is seemingly on the offensive with the spring Galaxies going at hidden discounts, with bonuses thrown in for a good measure. The same deal is valid with a Walmart gift card, and the giant retailer also offers the
Galaxy S6
for $249 on Straight Talk, and some other good deals on phones you can glimpse at below.