Best phones under $200 in 2019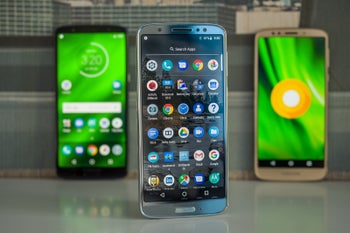 You don't
need
to spend a thousand dollars on a phone to get a good one!
That's the good news in 2019 as a few companies continue delivering incredible devices in prices as low as $200.
Why exactly $200? First, it's a nice round sum, and second, this is what people used to pay back in the day of 2-year contracts. But in an era when you pay the full price of the phone, this price target is particularly hard to hit. And especially so for a device that will make no big compromises with its performance and camera. Thankfully, we have selected a few devices that meet these expectations and that we think you will love.
Read on to learn all about them!
Redmi Note 7
Prices from $150
The first phone by Redmi as a brand separate from Xiaomi, the
Redmi Note 7
, sticks to the established fundamentals, namely, incredible price/performance ratio.
Priced way below $200, the Redmi Note 7 delivers a stylish glass body with and a smooth gradient finish on the back, it has a 6.3" LCD display with a tiny notch, it runs on the Snapdragon 660 chip and features a big, 4,000mAh battery. At the same time, the phone also keeps features like the microSD card slot, 3.5mm headphone jack, and an IR blaster. It's also the first Redmi phone with a USB-C port instead of the old microUSB one, and it supports QuickCharge 4.0.
Its best feature, however, might actually be the camera: a 48-megapixel Samsung sensor that exceeds expectations and shoots good-looking pictures during the day and at night.
Moto G6
Prices from $199
The
Moto G6
comes in a few different versions, but the regular one starts at under $200 and brings a lot to the table. First, the phone is a looker. It features a slim body, beautiful glass construction, narrow bezels and all the bells and whistles.
The phone sports a 5.7" Full HD+ LCD display and runs on the Snapdragon 450 chip, which is probably its weakest side. You won't notice much of a slow-down in daily use with this processor, but it's definitely not a fast chip by any means. What helps here is the clean interface that makes the most out of the hardware.
With a decent camera and good battery life, the
G6
remains one of the best options for those looking for a good budget phone.
Nokia 6.1
Prices from $230 (deals often bring price under $200)
The
Nokia 6.1
is one tough phone with a solid aluminum construction and a big, 5.5-inch Full HD LCD screen with rather big bezels too. We would not say that the 6.1 is as elegant as other phones in this class, though, so that's one compromise you make. In exchange for that, you get a fast and smooth performance thanks to the Snapdragon 630 chip under the hood and the clean interface. The interface is the part we're most excited about: this is an Android One phone, meaning that it runs a clean Android version and it has been quickly updated to Android 9 Pie, while some Android flagships are still waiting for that update in 2019.
Battery life is good (but not extraordinary) and the phone supports quick charging. The 16-megapixel camera on the back is also quite capable and delivers very decent images, especially for a phone of this price. We were also pleasantly surprised to see support for 4K video recording on board too.
Prices from $220 (deals often bring price under $200)
The Xiaomi
Mi A2
is another affordable phone that is a part of the Android One program, meaning that it has the latest updates faster than most other Android phones and that the interface it runs is clean and free of bloatware. Nice!
Xiaomi has also equipped the Mi A2 with a camera that exceeds expectations and performs very well in different conditions, plus you have support for portrait mode, which is useful.
The Mi A2 is also well built, with a metal construction and a slim profile. It sports the Snapdragon 660 chip under the hood, which is great, and performance is solid. All of this makes the Mi A2 one of our top value-for-money suggestions.