Best new Android, iPhone and iPad games for December 2012
2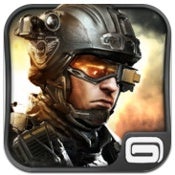 December is the last month of the year, and boy did game developers push the pedal to the floor releasing some of the hottest games this year.
There was something for all tastes, and it was all of the finest quality - starting with much anticipated shooters like Modern Combat 4, going through classics like Grand Theft Auto: Vice City and ending with fun puzzlers like the new Pudding Monsters.
We've cherry picked the best games for both iOS and Android, and once again we can confirm that bigger game studios are now releasing titles (almost) simultaneously on Google's and Apple's app catalogs. Great news for gamers. Take a look at all the best new games on Android and iPhone/iPad right below.
Best new Android, iPhone and iPad games for December 2012