Best new Android, iPhone and Windows Phone games for November 2013
4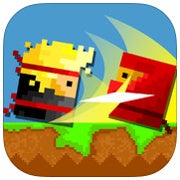 The year is drawing to a close, but in the last few months it seems that game developers have really stepped it up hugely bringing more and better apps than ever. That's why our November 2013 best new app round-up is very exciting and filled with great games in all genres you can think of. There were actually so many good games we had to split it up in two!
Games as a category continue being the most popular segment of apps, and are driving the growth of the two major platforms Android and iOS that both now feature over a million total applications. Windows Phone is still far behind closing in 200 000, less than a fifth of that figure.
Android has recently started accounting for more downloaded apps than iOS, but still speaking about pure revenue, iOS has the definite lead. Google's platform is closing in, though, and we expect that in 2014, Android will emerge as the most profitable platform for developers.
Let's get back to reality now, though, and with no further ado, here are the best Android, iPhone and Windows Phone games for November 2013.
Best new Android, iPhone and Windows Phone games for November 2013