Best affordable Quad HD smartphones (under $400) that you can buy right now
23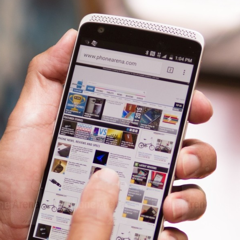 If you're looking to buy a Quad HD smartphone, but you think you don't have the money for that, you may be wrong. Right now, there are several smartphones with Quad HD displays that don't cost more than $400 in the US, while still offering very nice features (even though they were all released in 2015).
Sure enough, you may not notice any sharpness difference between Quad HD (1440 x 2560 pixels) and 1080p (1080 x 1920 pixels) when we're talking about displays measuring around 5 inches. But things start to change when you have screens of at least 5.5 inches - mind you, all four handsets that you'll see below sport such screens. Check them out - they're listed in alphabetical order - and tell us if you're tempted to buy any of them (that is, of course, if you don't already have one).
BLU has made a name for itself by selling unlocked smartphones at prices that are hard to beat on the US market. Released in September 2015, the Pure XL is one of the company's latest high-end handset, and, of course, it costs less than most - if not all - other devices in its class. With its 6-inch Quad HD Super AMOLED display, the BLU Pure XL is the largest smartphone on our list. While the screen is very sharp (490 ppi), it's not as bright as we would have wished, and color accuracy isn't the best, either. However, we'll forgive BLU for this, because the Pure XL
costs only $349 at Amazon
, yet manages to offer plenty of appealing features, including a 24 MP rear camera, fingerprint scanner, 3 GB of RAM, 64 GB of expandable internal memory, and a pretty capable octa-core MediaTek Helio X10 processor. The BLU Pure XL currently runs Android Lollipop, but it will soon be updated to Android Marshmallow.
The G4 is LG's former flagship smartphone, and although it's already been replaced by the G5, it's not yet 1 year old. Needless to say, the G4 remains an attractive device. Its highlight features include a 5.5-inch IPS Quad HD display (with 538 ppi), a very good 16 MP rear camera with extensive manual mode, 3 GB of RAM, and 32 GB of expandable storage space. The LG G4 relies on a six-core Qualcomm Snapdragon 808 processor (not Qualcomm's most powerful CPU, but still good enough), and currently runs Android Marshmallow. You can buy an unlocked LG G4 for as low as
$379.99 from B&H Photo
.
LG G4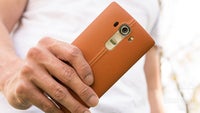 The Moto X Pure Edition was recently offered for as low as $299 (16 GB variant), but Motorola is now selling it starting at $399. Fortunately, the handset's price is still discounted at
Best Buy
and
Amazon
(starting at $299 and $324.99, respectively) - an excellent deal, considering the fact that the Moto X Pure was one of the best Android smartphones that we reviewed last year. Available in the US since September, the Moto X Pure (now running Android Marshmallow) sports a 5.7-inch Quad HD IPS display with 520 ppi, and, like LG's G4, it's powered by Qualcomm's Snapdragon 808 processor. Other features include a 21 MP rear camera, 3 GB of RAM, microSD card support, and a dust- and splash-resistant body that can be customized via Moto Maker.
Motorola Moto X Pure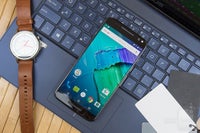 Launched in August 2015 as a premium unlocked smartphone, the ZTE Axon Pro was initially sold for prices starting at $450. However, the handset is currently available starting at
$349.98 (32 GB) or $379.98 (64 GB)
, and offers you a lot of bang for the buck - including a 5.5-inch Quad HD display protected by antimicrobial Gorilla Glass, an octa-core Snapdragon 810 processor, Hi-Fi sound, and 4 GB of RAM. Like the LG G4 and Moto X Pure, the ZTE Axon Pro was recently updated to Android 6.0 Marshmallow - a near stock software experience.
ZTE Axon Pro