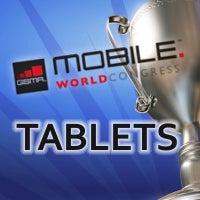 Tablet manufacturers didn't miss to present their latest and greatest products at this year's MWC. However, if there's one thing that we learned from the trade show, it's that not all tablets are made equal. Of all the offerings showcased at MWC 2012, there were a few that managed to shine brighter than the numerous other products available on display. Here are our picks for best MWC 2012 tablets (in no particular order)...

Offering both great build quality and specs, the ASUS Transformer Pad Infinity 700 Series immediately became one of our favorite tablets at MWC 2012. ASUS has demonstrated an incredible attention detail as far as outer appearance goes, without forgetting the specs side of things, coming up with an incredible product that we're definitely looking forward to. Last, but not least, the 700 Series stays true to the Transformer line-up, having a beautiful keyboard dock sold alongside it. Once again, there are more than one reason to get the dock, as it will not only provide you with a full physical QWERTY, netbook-like experience, but will also increase the battery life of your device. The sad part here is that we don't know yet when the tablet's coming out, but are having our fingers crossed that its release is not too far away.
ASUS Transformer Pad Infinity 700 Series
| Specs |
News
|
Specs Comparison

Galaxy Note 10.1
Lately, Samsung has been putting a lot of effort into popularizing its Galaxy Note - a gargantuan handset with a 5.3" screen and a special stylus for note-taking. Now, by announcing the new Samsung Galaxy Note 10.1, the company shows us that there's more to this newly-born Galaxy Note line. The Note 10.1 is actually a great tablet by itself, but once you add its improved, pressure sensitive-stylus to the deal, things get really interesting. We tested it ourselves and found the experience to be much better than on 5.3" Note. Could this be the beginning of a new designer's tablets line? We guess time will tell. Samsung Galaxy Note 10.1 release date: N/A.
Samsung Galaxy Note 10.1 Hands-on Review
|
Specs
|
News

It's safe to say that Huawei dropped a bomb at MWC 2012 by introducing us to its awesome Ascend D quad superphone and MediaPad 10 FHD tablet. Basically, the MediaPad 10 is a pretty well spec'd device featuring a large 10.1" with a resolution of 1920x1200 pixels and everything else the hardcore user may need. In terms of appearance, the tablet looks great and is extremely thin. There's an obvious inspiration here from Samsung's Galaxy Tab 10.1, but we'll forgive Huawei this time and hope that once the manufacturer establishes its positions on the market, it will start thinking about design more seriously. Currently, the Huawei MediaPad 10 FHD is expected to hit the market sometime in Q2.
Huawei MediaPad 10 FHD Hands-on Review
|
Specs
|
News