Samsung Galaxy Note 10.1 Hands-on Review
30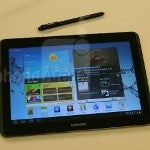 One of the most interesting devices announced by Samsung at this year's MWC 2012 is the Samsung
Galaxy Note 10
.1. So, what's common between the original Note (
5.3
) and this new Note 10.1? Well, basically, we can say that the Note 10.1 is the tablet version of the Note 5.3 phone. The general concept behind the device is pretty much the same – to incorporate a special S-pen stylus that will let the user take handwritten notes and draw on the screen.
As you can imagine, 5.3" are not really plenty of real estate to write on, so it's somewhat understandable that Samsung is now trying to take the same idea and see how it works in a tablet device. And, what do you know – after our first few minutes with the device, we were convinced that a tablet is much more suitable for handwritten note-taking than a phone, be it a 5.3" behemoth of a phone.
The Samsung Galaxy Note 10.1 is an appealing device. The front is, of course, occupied by the large 10.1 screen, but there are also to speaker grills on the left and right front edges, which give a really cool look to the device. The back is made of glossy plastic. It's nothing special, and attracts quite a lot of fingerprints.
Under the hood, the Galaxy Note 10.1 uses a
1.4
GHz dual-core processor, which basically guarantees its outstanding system performance. However, we should note that probably the biggest thing going for the Note 10.1 is the software that comes pre-loaded on the device. First of all, Samsung says that the Note 10.1 is designed to appeal mostly to business professionals, creative designers, students and kids/youth, so it has to deliver adequate tools for all of those demographics. And, judging by what we were told by Samsung, the Note 10.1 should actually do pretty well, as it will come with the usual specialized apps that we saw on the original Note, but will also come pre-loaded with the full versions of some Adobe apps like Photoshop Touch and Adobe Ideas, which is really wonderful, in our opinion.
The S Pen itself has also went through some improvements. Thankfully, the company has worked to fix any accuracy issues that were present with the Pen of the Note 5.3, and has also improved its pressure sensitivity. The end result is that we can now easily take notes, which are much readable (we tried it, and there's a noticeable improvement indeed). What's even cooler is that some Adobe apps have been optimized specifically for the Galaxy Note 10.1's S Pen, like Photoshop Touch, for example, which now features pressure sensitivity, and basically works great with the S Pen.
Unfortuantely, pricing and availability information is currently unavailable, but we hope that Samsung is going to launch its new tablet sooner rather than later. Until then, why don't you tell us what's your opinion of the Samsung Galaxy Note 10.1? What do you like/dislike about the device?