Best kickstand cases for Samsung Galaxy S8 and S8+
2

Samsung's
Galaxy S8
and
Galaxy S8+
feature two of the largest displays available on flagship phones in 2017, measuring 5.8 inches and 6.2 inches, respectively. This, of course, means that the S8 and S8+ are perfect for viewing media - and, quite often, users will want to watch content hands-free. To help in this regard, many protective cases feature kickstands, even if not all of them are marketed as kickstand cases.
If you're in need of a nice kickstand case for your Samsung Galaxy S8 or Galaxy S8+, we've selected some of the models that - we think - are the best out there. You can find them all below, listed in alphabetical order.
Maxboost Wallet Case
Maxboost Wallet Case for Samsung Galaxy S8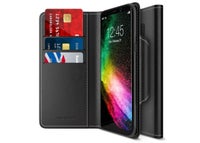 The Maxboost Wallet Case is made out of PU (aka bicast) leather, and can be transformed into a slightly adjustable kickstand for hands-free viewing. In addition to that, you're getting four inner pockets for cards and cash. The Maxboost Wallet Case is the cheapest option on this list, and represents a great value, coming with lifetime warranty.
Samsung S-View Flip Cover with Kickstand
Samsung S-View Flip Cover for Galaxy S8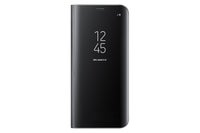 The S-View Flip Cover with Kickstand (also known as Clear View Standing Cover) is the most expensive case on our list, and comes from Samsung's own official line-up of Galaxy S8 accessories. Thanks to its transparent front, the case lets you see the time, plus notifications with the cover closed, and you can even answer to calls or snooze alarms. As for the kickstand mode, this is adjustable, so you should easily find the right angle for your viewing pleasure. Users of both the S8 and S8+ can get the S-View Flip Cover in a variety of colors for almost all tastes: black, blue, gold, pink, silver, and orchid gray.
Spigen Tough Armor
Spigen Tough Armor case for Samsung Galaxy S8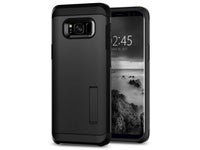 Offering a pretty cool design, the Spigen Tough Armor case for Galaxy S8 and Galaxy S8+ meets military standard MIL-STD 810G 516.6, and can survive drops from up to 4 feet (1.2 meters). The case features a small polycarbonate kickstand which, unfortunately, isn't good at providing multiple viewing angles, but at least it's very durable. The Spigen Tough Armor case is available in a variety of colors that can complement the Galaxy S8 and S8+, including blue coral, rose gold, maple gold, gunmetal, and black.
Vena vCommute
Marketed as a "smart case", the Vena vCommute has a leather-like rear that, in addition to functioning as a multi-view magnetic kickstand, it lets you store your credit cards or ID inside. Moreover, the case can survive drops from 4 feet, and is compatible with magnetic car mounts.
Zizo Bolt Cover
Zizo Bolt Cover for Samsung Galaxy S8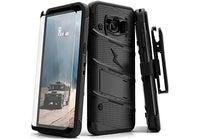 Definitely a bulky and rugged case, the Zizo Bolt Cover is supposed to withstand drops from up to 12 feet (3.6 meters), so your Galaxy S8 or S8+ should be safe inside it in almost any scenario. The case obviously has a tough kickstand, though this isn't exactly adjustable. You can get the Zizo Bolt Cover in no less than 10 color versions - holster clip, belt clip, and lanyard are included with all of them.