Best Buy's internal inventory systems points to 4/27 in-stock date for white iPhone 4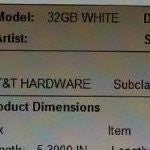 Nearing the inevitable and shedding even more light on the white iPhone 4's eventual release, we're now presented with a recent screenshot of Best Buy's internal inventory system showing the handset's expected in-stock date.
As you can tell, it's been graced with an
April 27th in-stock date
– meaning, we can expect to stroll into our local Best Buy store and pick up one of these pristine looking white iPhone 4 models. Interestingly enough, this new revelation seemingly
confirms the date pinpointed by yesterday's news
about the mythical device. Although it took nearly a full year to finally make it to market, we're guessing that there might still be some diehard individuals out there waiting to scoop one up.
Thankfully, we shouldn't wait to wait long in order to find out whether or not this in-stock date given by Best Buy holds up to be true, but then again, things might change as well.
source:
Engadget