White Apple iPhone 4 in transit to U.S. stores this weekend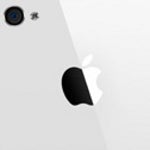 Soon to end its inclusion on the list of popular myths, the white Apple iPhone 4 is being sent to U.S. retail stores this weekend with a launch expected sometime this coming week, possibly April 26th as we
reported
. Some indications are pointing to April 27th as the release date.
Regardless, the white version of the phone is expected to boost sales of the model in a year when the next generation iPhone isn't expected until we get closer to the 2011 holiday shopping season. The delay from a summer introduction should give Apple enough time to prepare enough CDMA and GSM units of the iPhone 5 to allow both AT&T and Verizon to offer it at the same time.
The white version of the Apple iPhone 4 had been delayed
prior to the launch of the black model
. Light leaking out from the casing was a major issue and Apple tried various numbers of coatings before the problem was solved.
source:
AppleInsider