Best Buy to offer the Samsung Reality for $69.99
This article contains unofficial information.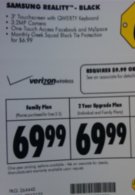 Although it may be referred to as being the kid brother of the Samsung Rogue over at Verizon Wireless, the Samsung Reality SCH-U820 has yet to pop up its head in stores nationwide. Having a
rumored release date
of April 22, Best Buy will be part of the select indirect dealers that will start offering the touchscreen handset. Pricing has yet to be revealed for Verizon stores, but Best Buy is looking to take the issue straight to the heart as they expect to start selling it for $69.99 on contract. Even though it's yet unclear if the Samsung Reality is part of the
6 expected devices Verizon that are coming really soon
, both new and existing customer who are eligible for an upgrade will be able to get the handset for the decent price of $69.99 – while dishing out a flat $349.99 will land you a no-contract deal on the handset. Just like most of the phones on Verizon's lineup, the Samsung Reality will require users to activate a data plan that's $9.99 or higher – still, it can be worth it when you consider how it truly opens up the device for users. Naturally one would think that the Reality would get lost among the myriad of phone launches Verizon will be conducting shortly, but the Samsung Reality's decent price offering over at Best Buy will surely attract some people who don't require all the refinements found on smartphones.
Thanks to our anonymous tipster!
Samsung Reality SCH-U820 Preliminary Specifications