Best Buy offering pre orders for two tablets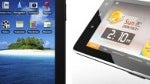 Customers patiently waiting for an Android powered alternative to the Apple iPad can get the ball rolling by preordering the Samsung Galaxy Tab for Sprint and Verizon or the Huawei S7 for a $50 down payment at Best Buy and Best Buy Mobile stores.
We know that Sprint will be offering the device for $399 with new two-year activation. Verizon is also offering the device with access to their 3G network but will not require a contract. However the lack of contract means a lack of subsidized pricing and will leave the device at $600.
Since T-Mobile and AT&T are yet to announce their pricing, the Galaxy Tab is not yet available for preorder on their networks. Also MIA is the WiFi only version of the Android powered device which will launch for $499.
Best Buy is also offering an alternative to the Samsung Galaxy Tab by way of the Huawei S7. It has a strong spec sheet that includes things such as the 1 GHz Snapdragon processor, a rear facing camera with 720p video recording capabilities, and a front-facing camera. It even has 2 USB ports on board.
However, the tablet only has a resistive screen instead of the more responsive and much more desired capacitive screen. This may be a deal breaker for some, but hey it's only going to run you $299 for a WiFi only version. Go over to Best Buy and get your preorder today if you want to guarantee yourself an Android tablet at the time of its launch.
source:
Into Mobile