Best Android and iPhone puzzle games of 2015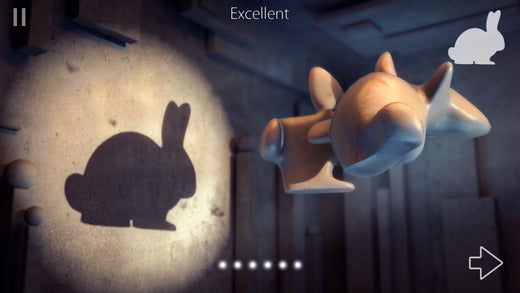 We're nearly halfway through 2015, and with so many great new puzzle games for Android, iOS and Windows Phone, it's sometimes hard to keep track. It's time to make some order in that list every gamer has in their head about those games that you still haven't played, but absolutely must not forget to check out.
In this selection, we look at the best iPhone, iPad, Android and Windows Phone puzzle games of 2015 and 2015 only. This means two things: we will include only the very best games that you won't regret playing, and all of them will be released in 2015.
From modern, sci-fi puzzles to more traditional puzzlers
We take the genre puzzle in the vast definition of the world: including atmospheric, ambient puzzle experiences as well as more traditional top-down puzzles shining with either their charming complexity, story or immersive environment. And while The Room 3 - possibly the highest-profile puzzler of the year - has been delayed for later on this year, there's no shortage of great games to check out. Take a look at the best new Android and iPhone puzzle games of 2015 right below.



#1: Test Chamber
Price: Free
Test Chamber is a stylish, difficult, and not-quite-euclidean puzzle game. It features world-wrapping mechanics and gameplay revolves around you guiding a cube-headed hero through a mind-bending world, with levels designed to challenge your ideas of space. To continue forward, you'd need to discover a portal to the mysterious Warp Zone, and reveal the truth behind the Dark Stranger.
#2: Bit Bit Love
Price: $0.99
Where would a game about two bits of data who have fallen in love and are looking for each other while avoiding deletion come if not from France? Bit Bit Love is a charming puzzle game with a story of a digital world where love is not allowed and that's why when R0D and A5CA enter the system, security agents try to delete them.
#3: Shadowmatic
Price: $2.99
The brand new Shadowmatic for iPhone and iPad sets a new bar for puzzle games with its stunning graphics, a 3D-esque spacious approach to tilting, twisting, rotating of pieces to match them in the perfect shape. With 9 rooms where the puzzles are assembled, you have 9 different environments, each with its own atmosphere and music. Since it might be quite a challenge at first, Shadowmatic comes with an elaborate system of hints to help you not get as stuck as to bang your head against the wall.
The price of the game is set at $2.99, a reasonable cost for the experience spanning over 70 levels.
#4: Breath of Light
#5: Lettercraft
Price: Free
Lettercraft is a word game with a twist. It features an interesting new adventure mode with 70 different levels, and a challenging survival mode to push your mind even further. It also allows you to pick between easy, normal and hard difficulty, and it's got a multiplayer mode.
#6: Chromaticon
Price: Free
Chromaticon is a challenging, fast-paced color matching game that will test your perception and reflexes. It combines motion-based action with tactical elements, and features an evolving gameplay provides you with new thrills and challenges.
#7: Last Voyage
Price: $0.99
Last Voyage is an adventure through space and mind in 10 unique chapters. Go through psychedelic portals, solve abstract puzzles, explore grand minimal forms or race against the stars.
#8: Shades
Price: $1.99
A mesmerizing, calming, zen-like experience that quickly evolves into a devilishly challenging puzzler with a shade of green.
#9: Orbits