Bell's Q2 results lead to a hike in the dividend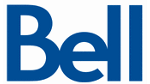 Canadian carrier Bell reported
strong second quarter earnings
as the total number of subscribers rose 2.3% over last year to reach a total of
7,453,363. On a sequential basis, Bell added 47,208 customers from Q1 of this year.
Net earnings rose 31% to $1.00 per share and free cash flow surged 88.3% to $804 million. The increase in the free cash flow allowed the carrier to raise its quarterly dividend by 10 cents a share to $2.27 starting with the payment due October 15th.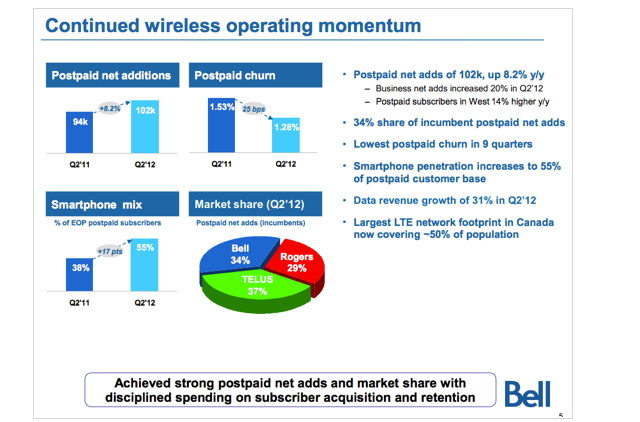 Bell reported a strong second quarter
Bell users are turning more and more to smartphones which is a good thing for the carrier as smartphone users tend to spend more money on service. 55% of Bell's post paid subscribers now use a smartphone as of the end of the second quarter versus 38% a year ago. Blended Average Revenue Per User was $55.37 for the quarter, an increase of 4.5% from last year. Bell said that increase comes from postpaid customers signing up for higher priced data plans. And Bell was able to
squeeze more profits out of each dollar of revenue
in the period. EBITDA margins for the second quarter came to 44.6% from 39.2% year-over year.
Bell released some interesting statistics related to their wireless business. The cost to acquire each postpaid customer was $381, a decline of 4.8% from the $400 it took to rope in a new contract-signing account last year. The cost of retaining these accounts rose to 9.8% of wireless revenue from 9.1% in 2011. Bell says that it is focusing on the more profitable postpaid customer and on a net basis added
102,067 such customers in period from 94,309 in Q2 2011
. The net number of new pre-paid subscribers declined to 54,859 in the three month period compared with 57,802 last year. But that was actually the result of fewer customer
deactivations.
Postpaid churn dropped to 1.3% in the period from 1.5% last year, while pre-paid churn was flat at 3.7%.
The carrier says it has the largest next-generation LTE pipeline in Canada, covering more than 49% of all the country's population
across 23 markets in 7 provinces and territories
. It plans on expanding
ts 4G HSPA+ and enhanced 4G HSPA+ DC (Dual Cell) networks, which now cover more than 97% and more than 80% of the Canadian population, respectively.
source:
Bell
via
MobileSyrup
Recommended Stories