Bell & Virgin Mobile Canada quickly shaves $50 off the pricing of the HTC Incredible S
0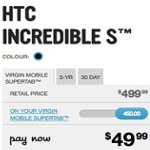 Well that surely didn't take that long, especially when the
HTC Incredible S recently became available in Canada
, but the incredible looking handset is already getting a surprising price drop.
Currently, both
Bell and Virgin Mobile Canada
are reducing the price of the smartphone by
$50
– which isn't too shabby since it just literally launched. However, it's still worth mentioning that the handset still requires a grueling 3-year contract – but now places the handset at an easier
$50 on-contract price
. Strangely though, there is no movement whatsoever with other pricing structures; such as no-contract, 2-year, and 1year-pricing.
Regardless of that, it should nonetheless appease anyone who vaguely shows interest in the device since its price has been literally slashed in half. Just possibly, we may very well potentially see the device priced all the way down to free in the near future.
source:
Bell
&
Virgin Mobile Canada
via
MobileSyrup